Will Ronaldo play against G.Saray?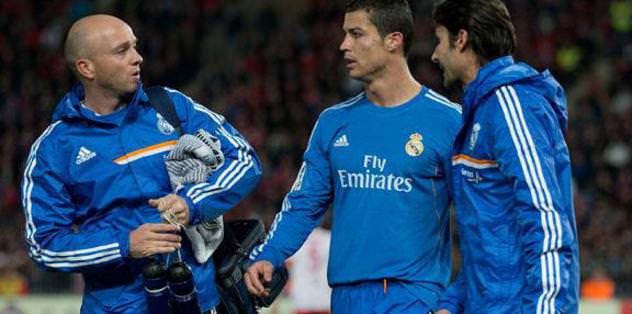 Carlo Ancelotti yet to decide wether he will rest CR7 or not in UEFA Champions League game against Galatasaray
Just hours after the resounding victory in Almeria, Real Madrid had a recovery session at Valdebebas with the notable absence of Cristiano Ronaldo. The Portuguese ace is waiting 24 hours to undergo medical tests after asking to be withdrawn from the match following a muscle problem. The only players who trained out on the pitch were Iker Casillas, Diego López, Jesús Fernández, Tomas Mejías, Marcelo, Casemiro, Jesé Rodríguez, Alvaro Morata, Nacho Fernández and José Rodríguez.
Those who did not play against Almeria or only played a few minutes like Casemiro, Jesé and Morata - all of whom made the most of the opportunity Carlo Ancelotti gave them - completed a circuit, played piggy in the middle and games of 'footvolley'. Last night's starters had a recovery session inside the building and massages from the physios. Amongst them was Cristiano Ronaldo, who did a light workout in the gym. The tests that Ancelotti announced the medical team would be carrying out on the Portugal captain will take place on Monday.
Depending on the results, Ancelotti will decide whether or not to rest CR7 on Wednesday for the Champions League match against Galatasaray, now that 'Los Blancos' have practically secured themselves a place in the knock-out stages. The 28-year-old had planned to take some time off next week after the UEFA match and the league game against Real Valladolid, as he is banned for the 'Copa del Rey'.