Lions find a way to beat Madrid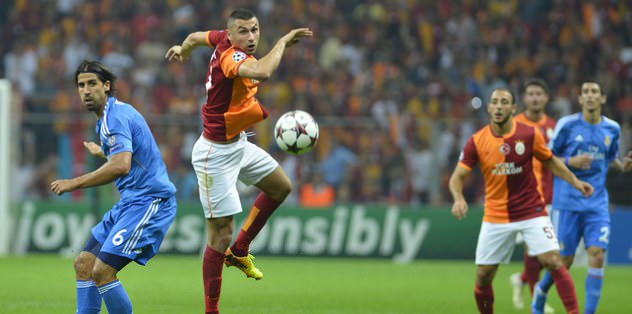 Lions, faces an uphill battle as it takes on rampaging Real in Group B of the UEFA Champions League at Santiago Bernabeu cauldron in Madrid on Wednesday evening.
Galatasaray's Italian coach sounded a timely warning after his team's hard-fought 2-1 victory over Sivasspor. "Ahead of us is the Real Madrid match and it is not easy to play against Real at Bernabeu," he said. And if we may add, "Signore" Mancini, let alone beat the Spaniards at Bernabeu.
The second-placed Lions have four points from four matches, six points behind runaway Real Madrid. Danish side FC Kobenhavn also has four with Juventus a point behind. This means that the Lions are not in a comfortable position in the group and shouldn't lose at Bernabeu because winless Juventus with three points also hosts FC Kobenhavn on Wednesday.
If Juventus wins, it will catapult to second place if Galatasaray loses and, depending on the margin of defeat, the Lions could even fall to fourth because they lead Kobenhavn by only a one-goal difference. And if the Danes win or draw, they will also move up to second if the Lions are beaten.
Mancini calls a spade a spade
But it's always a good thing to call a spade a spade. Galatasaray beating Real at Bernabeu, or even returning home with a point, is not only "mission difficult" but looks like "mission impossible."
Mancini himself is aware of this difficulty and so was talking about the last group match against Juventus in İstanbul on Dec. 10 even before the Real game. "After the Real match will be the clash against Juventus [in İstanbul] and this is a match we have to win," the Italian said after Saturday's domestic league match against Sivasspor.
Real, however, is not an alien football team from outer space. In order to be the best you have to beat the best, they say. Mancini should therefore form a team that can take the Spaniards by the horns and, even if they lose, they should go down fighting.
Uruguay keeper Fernando Muslera has reportedly recovered from a broken toe, but it remains uncertain whether Mancini will risk him in the Real match. If the Uruguayan is not 100 percent fit, then third-choice keeper Eray İşcan will again deputize for him.
Apart from Muslera, the good news is that all the other walking wounded have fully recovered. Dutch international winger Wesley Benjamin Sneijder, Turkey left back Hakan Kadir Balta and young back Semih Kaya are all in good shape and ready if called upon for duty. And because of the abundance of defenders, Mancini did not even include error-prone Cameroon defender Dany Achille Nounkeu -- who was red-carded in the match against Sivas -- in the 18-man line-up.
Turkey striker Burak Yılmaz has begun scoring goals after a mysterious slump and veteran Cote d'Ivoire forward Didier Drogba is as good as ever. Galatasaray needs to score at Bernabeu, for that's the only way they can progress from this group. The Lions lost by a wide 6-1 margin to Real in the opening Group B match in İstanbul on Sept. 17 because they could not score even though they had three or four clear chances in the first half.
Stuck between fielding an all-attacking side to score the needed goals or an all-defensive side to rein in the Real shooting stars, Mancini is very likely to opt for a little bit of both.
Ronaldo doubtful
Real's Portugal superstar Cristiano Ronaldo is doubtful for Wednesday's match after doctors confirmed he has a hamstring strain. The Portuguese limped off at the start of the second half of Saturday's La Liga victory over Almeria but fears of a serious injury were immediately played down by coach Carlo Ancelotti afterward.
Ronaldo left a medical examination on Monday morning, telling reporters, "I am fine," but the club released a statement saying, "There is an injury to the back of the thigh which will be monitored."
The Portuguese has been in fine form recently with 14 goals in seven games for his club and country and the injury comes after a demanding start to the season where he has played every match so far.
Real is a constellation of stars and even if Ronaldo is absent, the likes of Karim Benzema and 10 million euro man Gareth Bale can still do the job. And the way that Real routed newcomer Almeria 5-0 in the La Liga on Saturday proves without a doubt that Ancelotti's team has plenty of ammo in its arsenal.
But Ronaldo is Galatasaray's nemesis. He helped Real eliminate Galatasaray in last season's quarterfinals and hit a second-half hat-trick in Real's victory in İstanbul on Sept. 17. His absence would be a boon to Mancini and his Lions.
Kickoff is at 9:45 p.m. and the referee will be William Collum of Scotland. His assistants will be Martin Cryans and William Conquer. The fourth official will be Graham Chambers and the additional assistant referees will be Robert Madden and John Beaton.