Galatasaray become Turkish League leaders after win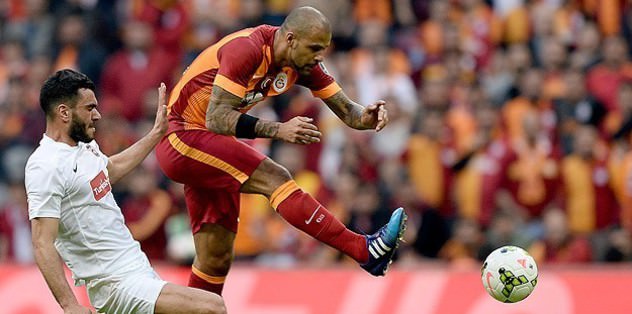 Galatasaray defender Hakan Balta's header gives team win and first place in Turkish Spor Toto Super League.
Galatasaray have become the leaders of the Turkish Spor Toto Super League after beating a challenging Gaziantepspor team 1-0 in front of its fans on Sunday evening.
Galatasaray, the Istanbul giants, increased the pressure for Gaziantepspor starting from the beginning of the game, but could not find the dead lock-breaking goal until the 85th minute.
Defender Hakan Balta, who had not scored in the league until Sunday, scored the header after a corner with five minutes to go in the game.
With the result, Galatasaray now have a league-leading 61 points. However, third-placed Besiktas (58 pts) has not played yet and they will meet with Karabukspor on Monday.
Hakan Balta's game-winning goal recorded was as the 200th goal in Turk Telekom Arena, Galatasaray's stadium.
Galatasaray managed not to concede a goal after 10 league games.
Felipe Melo, who has returned in the line-up after a 69-day lasting injury, was booked a yellow card and will not play next week.
Remaining fixtures for the 28th week:
Monday
Besiktas v Karabukspor
Current standings are as follows:
| | | | | | | | | | |
| --- | --- | --- | --- | --- | --- | --- | --- | --- | --- |
| Rank | Team | P | W | D | L | GF | GA | Pts | +/- |
| 1 | Galatasaray | 28 | 19 | 4 | 5 | 52 | 34 | 61 | +18 |
| 2 | Fenerbahce | 28 | 18 | 6 | 4 | 47 | 21 | 60 | +26 |
| 3 | Besiktas | 27 | 18 | 4 | 5 | 47 | 25 | 58 | +22 |
| 4 | Bursaspor | 28 | 13 | 8 | 7 | 56 | 37 | 47 | +19 |
| 5 | Istanbul Basaksehir | 28 | 12 | 11 | 5 | 39 | 23 | 47 | +16 |
| 6 | Trabzonspor | 28 | 12 | 11 | 5 | 51 | 41 | 47 | +10 |
| 7 | Mersin Idmanyurdu | 28 | 11 | 6 | 11 | 45 | 40 | 39 | +5 |
| 8 | Torku Konyaspor | 28 | 10 | 8 | 10 | 26 | 34 | 38 | -8 |
| 9 | Genclerbirligi | 28 | 9 | 9 | 10 | 41 | 38 | 36 | +3 |
| 10 | Gaziantepspor | 28 | 10 | 5 | 13 | 25 | 37 | 35 | -12 |
| 11 | Akhisar Belediyespor | 28 | 8 | 9 | 11 | 36 | 43 | 33 | -7 |
| 12 | Kasimpasa | 28 | 8 | 8 | 12 | 44 | 57 | 32 | -13 |
| 13 | Sivasspor | 28 | 8 | 7 | 13 | 34 | 39 | 31 | -5 |
| 14 | Eskisehirspor | 28 | 7 | 10 | 11 | 33 | 42 | 31 | -9 |
| 15 | Çaykur Rizespor | 28 | 7 | 7 | 14 | 34 | 47 | 28 | -13 |
| 16 | Karabukspor | 27 | 5 | 6 | 16 | 31 | 44 | 21 | -13 |
| 17 | Kayseri Erciyesspor | 28 | 4 | 9 | 15 | 31 | 49 | 21 | -18 |
| 18 | Balikesirspor | 28 | 4 | 8 | 16 | 34 | 55 | 20 | -21 |