Turkey briefs IOC on "Istanbul 2020"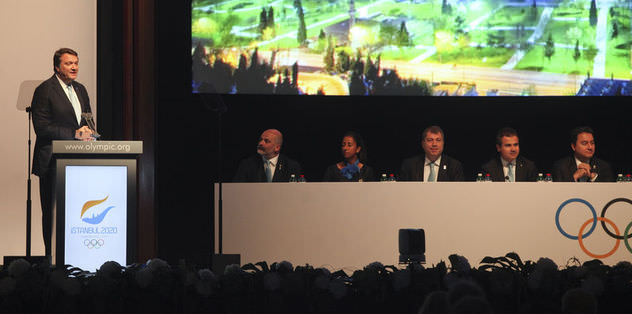 Turkish delegation is briefing International Olympics Committee (IOC) on its technical preparations for "Istanbul 2020"
The 2020 Candidate City Briefing for International Olympics Committee Members (IOC) of Turkish delegation led by Deputy Prime Minister Ali Babacan has begun in Lausanne, Switzerland on Wednesday.
Along with Turkey's Youth and Sports Minister Suat Kilic, IOC member and Turkish National Olympics Director Ugur Erdener, Istanbul 2020 Candidacy Committee Director Hasan Arat, Istanbul 2020 Ambassador Atilay Ersan and Istanbul 2020 CEO Ali Kiremitcioglu, Istanbul 2020 Sports Director Alp Berker and Technical Director Nejat Sarp also participate in the closed-doors meeting.
Following the briefing, Babacan and Kilic are expected to appear at a press conference.
Turkey's candidacy process
Turkey, candidate for 2000, 2004, 2008 ve 2012 summer olympics, announced its candidacy for the fifth time by "Istanbul 2020" on August 13, 2011.
On May 23, 2012 IOC accepted Istanbul's candidacy along with Tokyo and Madrid.
IOC's Evaluation Commission (EC) visited three cities and presented its examination report on June 25 to IOC.
The city to host 2020 Olympics will be selected on September 7 at 125th session of IOC in Buenos Aires, Argentina.