Renowned Turkish wrestler bags gold medal in Azerbaijan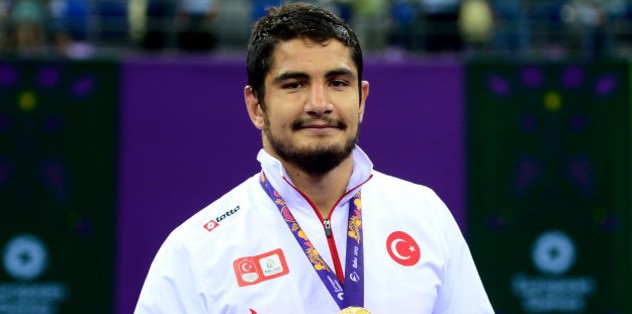 Taha Akgul, wrestling in 125-kilogram freestyle category, wins gold for Turkey in Baku European Games
Renowned Turkish wrestler Taha Akgul won the gold medal on Thursday in the European Games in Azerbaijan's capital Baku.
Competing in the 125-kg freestyle category, Akgul defeated Belarusian Aleksei Shemarov and bagged the second gold medal in wrestling for Turkey at the games.
The United World Wrestling (UWW) awarded Akgul the title of best wrestler in the world in the 125-kilogram freestyle category in October 2014.
The 24-year-old wrestler won a gold medal in the World Championships held in Uzbekistan in September 2014, and in April 2014, he had become a three-time European champion in Vantaa, Finland.
On Saturday, Riza Kayaalp won the gold medal for Turkey in 130-kilogram Greco-Roman wrestling.
On Thursday, Turkish Taekwondo competitor Nur Tatar won the bronze medal in the 67-kilogram women's category, beating French athlete Haby Niare.