Single mom retires boxing for daughter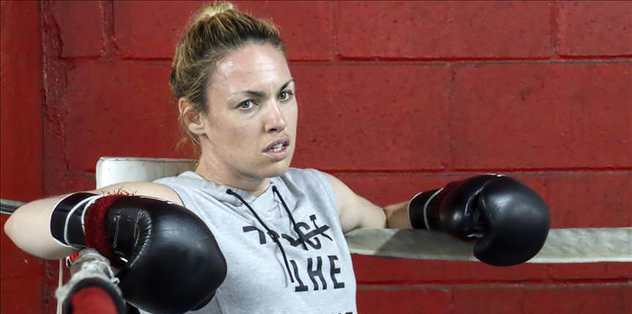 'I survived homelessness, poverty, sexual assault; being in the ring was easy," says undefeated champion
In a lot of ways, boxing mirrors life. A fighter enter the ring and battles it out until one is declared the winner.
For Heather "The Heat" Hardy, a female boxer who is trying to make a name for herself in the male-dominated sport, the story is not much different.
The single mother who grew up on the tough streets of Brooklyn, New York, is teaching her daughter what the sport has taught her.
She says that she likes boxing because it gives her a chance to fight in order to win. "So many times in your life, you are fighting as hard as you can, and you are giving everything, but you don't have a chance to win."
But for the 34-year-old undefeated WBC International Female Super Bantamweight Champion who took up the sport at the ripe old age of 28 for boxing standards, fighting does not only takes place in the ring, but it happens in life where it matters the most.
"I was going through a rough divorce. I was living with my sister and both of our kids. Neither one of us were getting any child support. I was working up to six jobs at that time and I was coming to the gym before 6 a.m. just to train before I started my jobs," she told Anadolu Agency.
"I had a rough childhood. I survived everything from homelessness, poverty, sexual assault -- it was a rough road, but what I found in boxing is the discipline. [What] you learn in boxing is so similar to the discipline in everyday life -- hard work, dedication, fortitude. Because of everything I survived in my life, being in the ring with somebody was easy," she said.
Three weeks after putting on the gloves, Hardy climbed into the ring for her first fight. She lost. And was defeated in her next bout as well.
In Hardy's corner, however, was another fighter who would give her hope, teach her the ropes, and fuel "The Heat."
"He saw something in me, he believed in me, and he made me believe in me," Hardy said while talking about her coach, Devon Cormack -- a veteran trainer and former three-time kickboxing champion who guided his sister Alicia Ashley to a boxing world title.
Cormack describes Hardy as "a fantastic fighter" and "a great student".
"I have never seen anybody work that hard. She doesn't only comes in and do the boxing, but she also goes home and takes care of her kid as a single mom. I think she is an exceptional person," he said.
For Hardy, Cormack appeared at just the right time.
"For the first time in my life, he made me believe that I can actually be good at something and provide my daughter with things that I never had and I never thought I could give her," Hardy said as she laced her gloves before stepping into the sparring ring at the famed Gleason Gym that have trained greats such as Jake LaMotta, Carlos Ortiz and Cassius Clay for his championship fight against Sonny Liston. Clay, of course, went on to change his name to Muhammad Ali.
Within 18 months, Hardy racked up eight titles, won almost every competition in the amateur ranks and was ranked number one in the country.
It was time to turn professional and introduce the world to "the Heat".
"He thought about turning me into a pro," said Hardy, who has won 16 fights in her professional career and is yet to lose a single match.
"After the second year of me being a professional, I was able to move out of our old neighborhood, which is not the best neighborhood. And, now, we are living some place nice, some place safe," she said.
Her determination and perseverance in the ring is something Hardy says she is teaching her daughter: that success comes at a price and with sacrifice.
"I missed birthday parties, I missed school trips, but what I'm showing her is valuable -- that you can succeed on your own, you can do with little to nothing, and all it takes is hard work, dedication, perseverance," she said.
Hardy's work in and out of the ring is not lost on her daughter Annie.
On Mother's Day, Hardy will receive a gift that has no price: knowing her daughter appreciates the sacrifices she has made for her.
"I love her so much," 11-year-old Annie said of her mom. The straight A student is involved extra curricular activities and like with her mother, does not waste a single minute of her time.
Hardy knows how hard it is juggle being a single-mom and a career at the same time.
"It's a big struggle to try to balance the sport with being a mom but I think all single parents face that no matter what your career is," Hardy said. "People rarely ask men how they do it. But, for a woman, it's twice as hard for being a mom and a dad at the same time. I have sacrificed a lot of time with Annie."
With her undefeated record, Hardy will climb into the ring at Brooklyn's Barclays Center to face her seventeenth opponent June 25.
On that date, and even before it, "The Heat" has a much bigger fight that simply defending her title.
"When I started boxing, I wanted to be the best, to win all the world titles and be the greatest fighter. But, now that I see the insights and how there is such a large discrepancy between men and women are treated and paid, that has taken over my goal," she said.
Hardy is now fighting for female parity with men in the sport where earnings and recognition for male boxers far outweigh women competitors.
"I'm selling upwards of $30,000 in tickets and making less than one-tenth of what boys are making who don't have an impressive record like me. It all comes down to networks that don't want to televise female fights. So, I won't stop until somebody puts me on TV and allows women the same opportunities as men," she said.
Win or lose in June, Hardy plans to keep fighting.
Whether it's on the mean streets of Brooklyn, fighting for her daughter or for equal pay for women in the sport, fighting is what Hardy does best.
And sometimes you have to create your own opportunity by persevering against all odds, climbing the ladder and refusing defeat -- much like Hardy.
And much like in life, Hardy plans to be declared the winner.