Stars beat Blues to send series to Game 7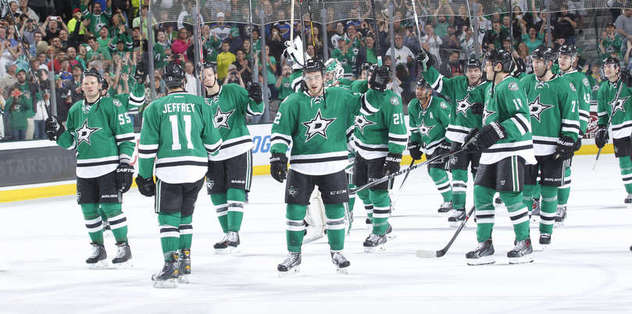 Mattias Janmark and Vernon Fiddler scored 20 seconds apart, and Kari Lehtonen stopped 35 of 37 shots, to lead the Dallas Stars to a 3-2 victory over the St. Louis Blues on Monday in Game 6 of their second-round playoff series.
The win forced a deciding Game 7 on Wednesday in Dallas for the right to advance to the Western Conference final.
The Blues have not played in the conference final since 2001 while the Stars last reached that round in 2008.
The Blues will be playing their second Game Seven in this year's playoffs, having eliminated last season's Stanley Cup champions Chicago in round one.
Trailing 3-0 after the first period, the Blues scored once in the second and then cut the lead to 3-2 on a goal by Patrik Berglund off a pass from Jori Lehtera at 8:59 of the third.
The Blues pulled goalie Jake Allen with 1:48 to go for an extra attacker but could not beat Lehtonen for the tying goal.
The Blues outshot the Stars 37 to 14 in the game, including a 14 to 2 advantage in the third period.
Dallas scored on two of their first three shots on goal, with Janmark and Fiddler, celebrating his 36th birthday, getting the goals seconds apart in the first 5:13 of the opening period.
Jason Spezza increased the lead to 3-0 with a power-play goal, his first goal of the series, at 16:49 after Troy Brouwer was called for cross-checking. It was only the Stars' second power-play goal in 17 opportunities in the series.
The Blues pulled goalie Brian Elliott after Spezza's goal, which came on Dallas' seventh shot on goal, and inserted Jake Allen for the first time in the playoffs. He last played April 3, logging one period at Colorado.
Elliott had allowed only 10 goals on 158 shots on goal by the Stars in the first five games of the series.
Trailing after the first period for the first time this postseason, the Blues out-shot the Stars 14-5 in the second period but could only score once, on a goal by Alexander Steen off a rebound at 7:29, to cut the Dallas lead to 3-1.