Australia back Kyrgios over criticism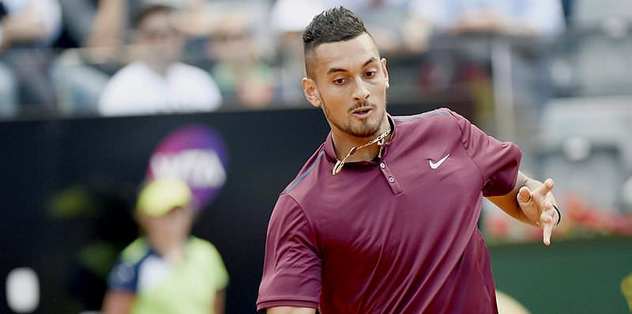 Tennis Australia (TA) and the Australian Olympic Committee appear to be headed for a showdown over Nick Kyrgios for the Rio Games after the 21-year-old was publicly backed by his sport's governing body on Friday.
Kyrgios was targeted again by the Australian team's chef de mission Kitty Chiller earlier on Friday as a player who needed to improve his behaviour or he would not be selected for Rio even if he is nominated by TA.
"Since the disciplinary action taken against Nick last year he's made a concerted effort to improve his performance and behaviour, and full credit to him," TA president Steve Healy said in a statement late on Friday.
"It's unfortunate that he's been included unfairly in recent discussions on player behaviour that have not involved him."
The world number 20 was drawn back into the limelight after compatriot Bernard Tomic said he would not be available for the Rio Games in August due to an "extremely busy" playing schedule .
Both Tomic and Kyrgios had been warned by Chiller last week about their behaviour, especially Tomic who was heavily criticised for his attitude during the Madrid Open.
Earlier this week, however, the 21-year-old Kyrgios said of the warning: "If you don't want two of the best players in Australia to represent your country, so be it."
Chiller, a former Olympic modern pentathlete, was unperturbed on Friday at Tomic's withdrawal and added that Kyrgios was still treading a fine line as to whether he would be selected.
"I think his comments show maybe he doesn't really know what it means to be an Australian Olympian," Chiller said of Kyrgios' statement earlier this week. "If someone doesn't see the value in that, then that's their loss."
Kyrgios has had several incidents of poor behaviour in the last 12 months and was given a suspended ban by the ATP last year for an off-colour comment directed at Swiss Stan Wawrinka.
He was also booed by his home crowd at the Australian Open in January after a running battle with a chair umpire.
Healy, however, said Kyrgios had been working hard to rehabilitate himself.
"His performances this year have been markedly improved and its obvious he's showing more maturity," Healy said.
"Nick deserves the opportunity to concentrate on his tennis without any additional distractions."