Pistorius gets 6 years for murder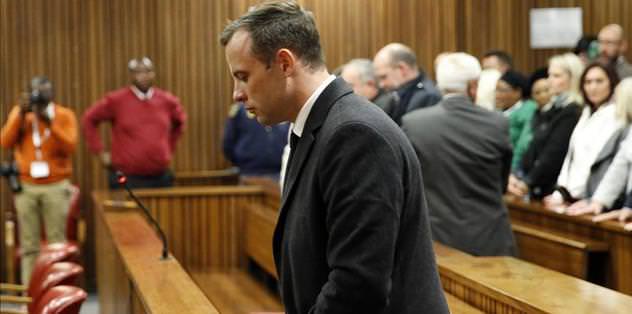 Fresh sentence dashes hopes for harsher 15-year jail term for Pistorius who killed his girlfriend 3 years ago
South African Olympic athlete Oscar Pistorius was sentenced Wednesday to six years imprisonment for the murder of his girlfriend Reeva Steenkamp three years ago.
Presiding Judge Thokozile Masipa said she had considered a number of factors in delivering a fair sentenced to the athlete, including Pistorius' remorse for the crime and his apology to the Steenkamp family in the court.
Masipa said she believed Pistorius was capable of rehabilitation and, therefore, long-term imprisonment would not serve justice in this case.
The state had called for a harsher jail sentence against Pistorius of not less than 15 years, which is a minimum for murder in South Africa.
Pistotrius, 29, was initially sentenced to five years for manslaughter in 2014. He later had his conviction overturned last December when state lawyers appealed the case after which he was released on parole after serving just a year in prison.
The Supreme Court of Appeal determined he was guilty of murdering Steenkamp and ordered a fresh sentence.
The athlete killed his girlfriend on Valentine's Day in 2013, when he fired a handgun four times through a locked toilet door at his Pretoria home.
The double amputee, known as the Blade Runner for his athletic achievements, maintains that he mistook his girlfriend for an intruder when he opened fire in their Pretoria home.
Pistorius won a gold medal at the Athens Paralympic Games at the age of 17, turning him into a national hero. In 2012, he became the first amputee runner to compete in the Olympics.