Americans favored for basketball gold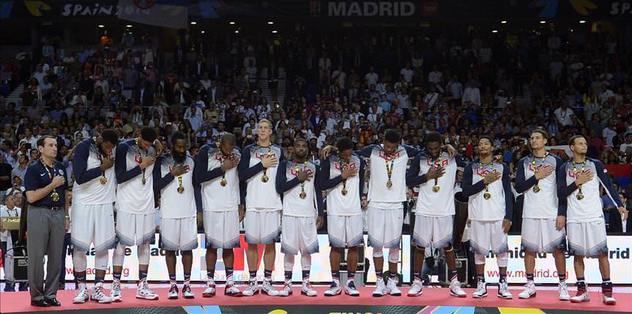 Depleted of star power, Team USA is nonetheless far and away the favorite to take home basketball gold during the Rio Olympics.
Among those who have opted to stay home are LeBron James, Steph Curry, Chris Paul, James Harden and Blake Griffin.
The loss of that caliber of players may seem like a death knell for the team, but the sheer depth of the American team ensures it will reach the medal round, barring catastrophe.
Leading the charge will be two-time Olympic gold winner Carmelo Anthony, former NBA MVP Kevin Durant and 2016 NBA champion Kyrie Irving.
The U.S. will not be the only team missing key players. Spain will be without Marc Gasol and Serge Ibaka, France will take the court without Tony Parker and Argentina will be missing Manu Ginobili.
Turkey will not compete altogether after losing a qualifying game to France.
The U.S. has been undefeated in 17 consecutive games dating to the 2004 Athens Olympics. If it matches expectations, it will take home its third straight gold.
Argentina last interrupted the U.S.'s gold dominance in Athens, which was only the second time the Americans failed to take gold since 1988 when the Soviet Union emerged victorious.
Coach Mike Krzyzewski has helmed the U.S. national team to a 75-1 record over the past decade.
In last week's exhibition games, Team USA bested Argentina, considered a strong medal contender, 111-74, and routed China 106-57, portending a strong showing for the odds-on Olympics favorite.
Competition will take place in a bracket format with teams split into two groups.
Along with the U.S. and China, France, Venezuela, Serbia and Australia will compete in Group A.
Spain, Brazil, Lithuania, Croatia, Argentina and Nigeria will compete in Group B.
On the first day of competition, Aug. 6, Australia will play France, China will take on the U.S. and Venezuela will face Serbia.
Group B will kick off competition Aug. 7 with Brazil facing Lithuania, Croatia competing against Spain and Nigeria taking on Argentina.
The gold-medal final game will take place on the Olympics' last day, Aug. 21, at 3.45 p.m. local time in Rio (0145GMT). The bronze medal game will take place earlier that day at 11.30 a.m. (1730GMT).
Not unlike in the men's competition, the U.S. is widely favored to take home the gold in women's play.
The team is on a 41-game winning streak going back to the Barcelona games in 1992.
In Rio, they will be led by Angel McCoughtry, Brittney Griner, Tamika Catchings, Elena Delle Donne, Sylvia Fowles, Sue Bird, and Seimone Augustus.
Australia is ranked second, and will be led by Mariana Tolo, Elizabeth Cambage Erin Phillips and Penny Taylor.
Ranked third, Spain, which made it to the 2014 World Championships, will be led by Sancho Lyttle, Laura Nicholls and Anna Cruz.
Team Turkey has called up Esra Ural, according to the Turkish Basketball Federation, in a bid to improve the team's rebounding capabilities.
Ural averaged 5.3 points, and 4.2 rebounds per game in 26 games for Abdullah Gul University, Kayseri.
She recently signed with Fenerbahce Sports Club, Istanbul.
Group A will be comprised of France, Japan, Brazil, Australia, Belarus and Turkey.
Canada, Spain, the U.S., Senegal, Serbia and China will round out Group B.
Competition will kick off Aug. 6 with Turkey taking on France, China playing Canada, Brazil facing Australia and Belarus facing Japan.
Group B's competitions will begin Aug. 7 as Senegal faces the U.S., Spain competes against Serbia, Turkey challenges Australia and France plays Belarus.
The gold medal game will be played Aug. 20 at 3.30 p.m. (1730GMT). The bronze game will be at 10.30 a.m. (1330GMT).