Ethnosports Culture Festival begins Thursday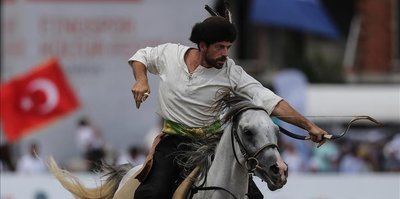 Istanbul to host festival with over 800 athletes
The second edition of the Ethnosports Culture Festival is set to begin in Istanbul on Thursday.
The four-day festival, sponsored by Anadolu Agency, aims to promote and revive sports and cultures unique to ancient Turkic life.
Hakan Kazanci, deputy chairman of the World Ethnosports Federation, told Anadolu Agency, "We aim to bring light to sports which are part of our blood."
He said the objective of the festival is to introduce the sports internationally while making it an Olympic-like event.
A total of 843 athletes will compete in 11 different sport categories.
It will feature events including mounted archery, horse riding, oil wrestling, traditional Turkic and Central Asian sports, plays for children, and folk music concerts.
A group of traditional Turkic tents will also be displayed during the festival.
In oil wrestling competition, 295 athletes including top wrestlers will compete against each other.
The festival will also host 30 artists from different traditional art branches falling into oblivion.
For children, 26 plays will be put on display.
The festival will run through May 14.