Taiwan set to host 2017 Summer Universiade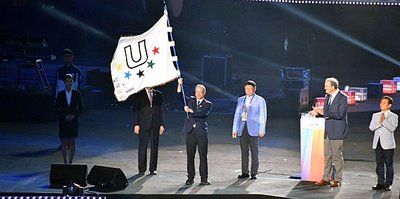 International multi-sport event organized for university athletes is expected to host more than 7,700 students
Taiwan will host its largest ever sporting event as the capital Taipei made all preparation for the 29th Summer Unviersiade, an international multi-sport event organized for university athletes.
The Torch Relay for the 2017 Summer Universiade, which will travel several cities across the world for two months, has begun on June 20 with a special event in the Italian city of Turin.
Turin was the birth place of the global event, as it hosted the first ever Universiade in 1959.
It is expected to arrive in Taipei City on June 29. The relay will pass through all of Taiwan's 22 cities and counties, according to Taipei Universiade Organizing Committee (TUOC).
Following the lighting in Turin, the Torch Relay will head to Napoli, the host of the 2019 Summer Universiade.
It will also visit Thailand's Bangkok, host of the 2007 Summer Universiade; and South Korea's Daegu, host of the 2003 Summer Universiade, according to the International University Sports Federation (FISU), main organizer of the event.
The 12-day event starting on August 19 in Taipei will involve more than 7,700 student athletes from 153 countries, contesting 21 sports at 38 competition venues in Taipei and other neighboring cities.
"With a vision to shape the leaders of tomorrow through their experiences of international student sport, the Universiades are the most powerful tool at our disposal," the FISU said.
The name for the international sporting and cultural festival, "Universiade", is derived from the words "University" and "Olympiade".
The Universiade is also known as the World University Games and staged every two years in a different city across the world.