Turkey's Agris bags gold in women's Taekwondo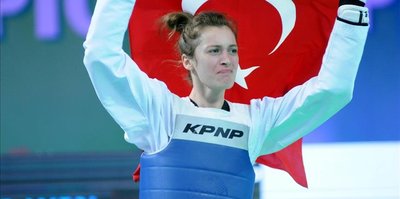 Zeliha Agris, 19, defeats Russian opponent in World Taekwondo Championship in women's 53-kg category
Nineteen-year-old Turkish competitor Zeliha Agris on Wednesday defeated her Russian opponent to bag the gold in the women's 53-kg category at the 2017 World Taekwondo Championships.
The championships, held in Muju County, South Korea from June 24 to July 3, saw Agris claiming her first gold medal by defeating Tatiana Kudashova 11-8 in a gold medal match.
Agris advanced to the final match after beating her Uzbek opponent Dinorahon Mamadibragimova 11-7 in the semifinals.
The women's bantamweight category in the championships limits players to a maximum of 53 kilograms in body mass.