Turkish athlete with Down syndrome eyes gold medal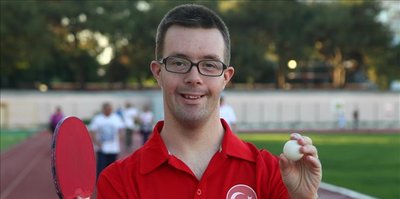 'I believe he will be a world champion,' says thirty-year-old table tennis player's coach
A Turkish table tennis player with Down syndrome is keen to become the country's first gold medal winner at this year's World Championship.
The 30-year-old Erman Cetiner, who works as a tea boy at Kirklareli Governor's Office in northwestern province, has so far won around 100 medals -- including a third place at a world championship for Down syndrome players.
In October 2017, Cetiner will be participating at International Down Syndrome Championship in Portugal. His coach believed that he would bring the world championship title for his country.
Cetiner, who is known as a "medal hunter", met his coach Soner Polat 12 years ago and since then he has been playing table tennis.
Speaking to Anadolu Agency, Cetiner said he believed that he would overcome all obstacles with the help of table tennis.
"My coach Soner made me hold on to life with the help of table tennis.
"At the moment, I am playing with the Down syndrome in the national team and I will wave all around the world our flag's star and crescent bearing on our national team jersey," he said.
His coach Polat says Cetiner won his first medal two years after he began playing table tennis and since then he did not let any other rival win.
Cetiner became the Marmara region champion 10 times, Polat added.
"He became Turkey's champion and later he represented Turkish national team in South Africa, where the team got the fifth position," his coach said.
The duo works six days a week for three hours.