Deaflympics puts Turkey in the spotlight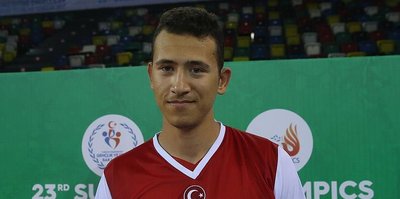 Coastal city of Samsun hosts 23rd Summer Deaflympics, attracting more than 3,000 athletes from 97 countries
The Turkish city of Samsun is in the international spotlight through the end of July as the official host of the 23rd Summer Deaflympics, the global games for the hearing impaired.
"We're at the center of attention worldwide. We feel proud to host the third-biggest sports event in the world," Ali Kaya, the captain of the Turkish National Basketball Team at the games, told Anadolu Agency.
The 23rd Deaflympics began Tuesday in the coastal Black Sea province of Samsun with more than 3,000 athletes from 97 countries participating, and is set to run through July 30.
Kaya also said Turkey has the ability to host any international event, stressing the current games' social media presence and custom-made mobile apps in particular.
For instance, the Deaflympics 2017 cellphone app offers an event schedule alongside the results and venues of the matches, and allows users to get alerts for their favorite competitions.
The first games for the deaf, known then as the International Silent Games, were held in 1924 in Paris with athletes from nine European nations participating.
The games were the idea of Eugene Rubens-Alcais, himself deaf and president of the French Deaf Sports Federation.
Hearing impairment no hurdle
Kaya, a longtime basketball player, said, "I decided to play basketball when I felt the atmosphere of the 2001 European Men's Championship," where Turkey won a silver medal.
"The 12 Giant Men were always my idol," he added, using the nickname of the Turkish national team.
Since first entering the Deaflympics in 1989, Turkey has won a total of 84 medals, including 17 golds, and 33 medals alone at the 2013 games in Sofia, Bulgaria.
Kaya, competing in his third Deaflympics, dismissed the view that being hearing impaired is an obstacle to becoming an international athlete.
"We just don't hear. The best thing people can do for people with hearing disabilities is to encourage them to get involved in some kind of sports," he said.