Project to promote traditional Turkish archery launched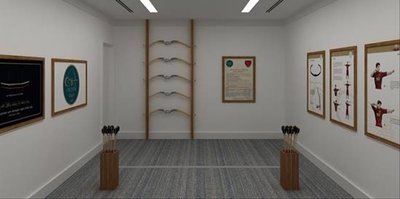 Yunus Emre Institute, Okcular Foundation ink protocol for cooperation in Ankara.
A joint project of Turkey's Yunus Emre Institute and Okcular (Archers) Foundation was launched in Ankara Thursday that aims to promote traditional Turkish archery.
A Yunus Emre Institute official told Anadolu Agency the Kemankes Project will bring Turkish archery, which according to some scholars goes as far back as the first millennium B.C., to the global arena.
The project began Thursday after a protocol for cooperation was inked between Yunus Emre Institute and Okcular Foundation.
In the project's first year, 40 sportsmen and women from Yunus Emre Institutes in 16 countries, including Germany, Bosnia Herzegovina, Morocco, Egypt, Poland and Jordan, will get training in traditional Turkish archery at Istanbul's Archers Foundation Sports and Culture Center.
The sports facility includes open and closed training grounds, atelier for archery, bow making and the world's biggest shooting track for archery.
The training program, comprising 33 courses, will start on Nov. 27 and continue through Dec. 4.
As part of the program, the participants will visit historical and cultural sites of Istanbul.
Bilal Erdogan, member of Okcular Foundation's board of trustees, Haydar Ali Yildiz, head of the foundation, and Seref Ates, Yunus Emre Institute head, will give certificates of attendance to participants during the closing ceremony.
Participants of the program will also get a chance to attend Yunus Emre Institute's Turkish Summer School Program.
Yunus Emre Institute provides services abroad to people who want to learn the Turkish language, culture and art; one of its aims is to improve friendship between Turkey and other countries and increase cultural exchanges.
Since it was established in 2009, the institute has taught Turkish to more than 99,000 people in 43 countries.
Named after the 13th century poet Yunus Emre, the institute now has nearly 54 cultural centers around the world offering artistic, social and scientific programs.