Russia to meet Olympic committee ban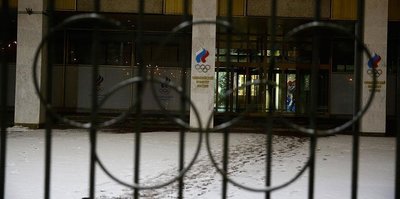 Olympic Committee bans Russian team over doping allegations
Russian officials will meet representatives of the International Olympic Committee (IOC) on Friday to discuss details of how its athletes will compete in the 2018 Games following a ban on its national team.
According to a statement by the Russian Olympic Committee on Tuesday, the meeting will be held in Switzerland.
The meeting comes following an Olympic ruling last week which accused Russia of running a state-sponsored doping program.
In a three-year-long investigation the IOC said that before and during the 2014 Sochi Games, Russian scientists obscured positive dope tests of 1,000 athletes.
The committee banned Russian athletes from participating in the 2018 Winter Olympics under their national flag, and allowed athletes who cleared dope tests to compete under a neutral flag.
It also excluded Russia's former Sports Minister Vitaly Mutko and his deputy Yuri Nagornykh from participating in future Olympics and suspended Russian Olympic Committee President Alexander Zhukov as an IOC member.
In a statement on Tuesday announcing new decisions, the IOC said six Russian ice-hockey players Inna Dyubanok, Ekaterina Lebedeva, Ekaterina Pashkevich, Anna Shibanova, Ekaterina Smolentseva and Galiba Skiba had been disqualified for doping.
The IOC said the six athletes were now ineligible to be accredited in any capacity for all Olympic events.
"As of now, the number of cases opened by the Disciplinary Commission has reached 46 after additional findings from the re-analyses. Thirty-three of them have already been heard, of which two have been filed," the statement added.
Russian President Vladimir Putin said a ban on the country's athletes was unfair and refuted accusations of a state-sponsored doping system.
Putin said that his country's athletes would compete in the games as individuals.
The Games will be held in South Korea's Pyeongchang in February.
*Diyar Guldogan contributed to the story from Ankara