Pence to head delegation to South Korea Olympics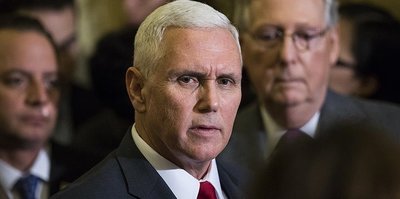 Vice president to 'reaffirm to the leaders of Japan and South Korea the United States' unwavering commitment to our allies'
Vice President Mike Pence and second lady Karen Pence will lead a presidential delegation to next month's Olympic Winter Games in Pyeongchang, South Korea, the White House confirmed Wednesday.
In addition to attending the opening ceremony on Feb. 9, Pence will travel to Seoul, the South Korean capital, and Tokyo for meetings centered on security in the Korean peninsula, the executive mansion said in a statement.
"The Vice President will reaffirm to the leaders of Japan and South Korea the United States' unwavering commitment to our allies and to deter and defend against the North Korean threat," said Jarrod Agen, Pence's deputy chief of staff.
Pence will also travel to Alaska to review ballistic missile facilities.
North Korea said earlier this week it would send athletes and other representatives to next month's Winter Games, having boycotted the 1988 Summer Games in Seoul.
South Korean President Moon Jae-in affirmed Wednesday he has "no plans" to ease sanctions against North Korea until Pyongyang decides to denuclearize.
The comments came one day after the first formal inter-Korean talks in more than two years.
"Now the dialogue with North Korea has begun, but because the North Korean nuclear issue has not been resolved, South Korea will continue to keep pace with the pressure and sanctions by the international community," Moon told reporters according to the Yonhap News Agency.
South Korea's president added that improving inter-Korean ties is dependent on the North being willing to abandon its controversial nuclear weapons program.
Pyongyang's sixth-ever nuclear test last year and a series of missile launches incurred bolstered global sanctions.